I frequently read stories of people who attended the "Grammar School, South Shields" in the late 19th century, when in fact they didn't - they attended the Boys' High School (their names are in the High School's Admission Register).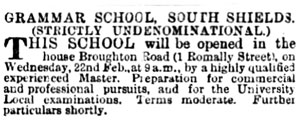 However, there was indeed a Grammar School in South Shields at that time. It was a small private school run from a private house on the corner of Broughton Road and Romilly Street, later moving to its own building in Westoe Lane.
The school had nothing to do with the High School and to help remove the confusion here is a brief history of the Grammar School.
The entry in the Shields Gazette in 1882 (right) shows that it was opened on 22-Feb-1882 by a "highly qualified experienced Master", Mr John Barker.
Mr Barker was born in Aldborough, Yorkshire, but in 1881 was an assistant teacher at the Trull Wesleyan College in Taunton. The following year he had moved into the house at 1, Romilly Street, on the corner of Broughton Road and it was here that he opened The Grammar School.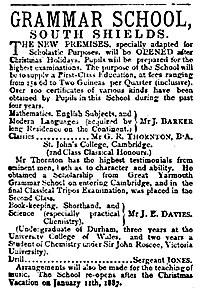 In 1886, a new school was built on Barker Terrace, Westoe Lane, just to the right of Westoe Baptist Church. It was due to open at the end of the Christmas Holidays, but occupation was delayed because "the new premises not being considered quite dry owing to the long continued frost".
Initially, the school was mainly for boys, but in January, 1890, a girls' department was opened. The announcement stats that "the young ladies will be entirely separate from the boys", and that they will have a separate entrance.
Whelan's Directory of 1894 describes it as "a handsome brick building", with accommodation for 15 boarders and 80 scholars.
The school did achieve a number of academic successes, and in 1891, at the age of 43,John Barker handed over the reigns to John Millington Powell, a teacher from Shropshire, and Giles Tooker, from Ireland, with Powell listed as principal.
In 1894, Powell married Elizabeth Buggeln in the Wirrell, but died only three years later. At this point, all adverts in the local press stopped and it is assumed that the school closed at that point, with Mrs Powell arranging an auction of the housheold effects. Soon afterwards, adverts appeared offering the Grammar School building to let.
After the closure, there was no Grammar School in South Shields until, in 1953, the Boys' High School was renamed the South Shields Grammar-Technical School for Boys.